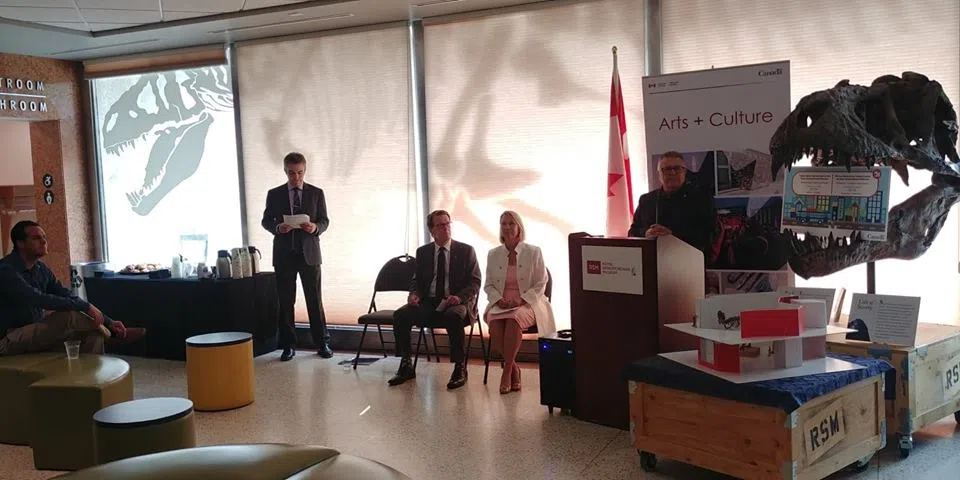 The Royal Saskatchewan Museum is getting a bit of a face lift next spring.
The federal government is committing $472,000 to the RSM, who will use the funding to make a two-story exhibit to show off a casting of Scotty the T-Rex.
Member of Parliament Ralph Goodale said it's important for the RSM to stay current.
"To have the display flexibility, to be able to reinvent itself and to renew itself on a constant basis so that you continue to tell the fundamental stories, but you do so in constantly fresh and different iterations."
Executive Director of Friends of the Royal Saskatchewan Museum Michelle Hunter said change was needed for the RSM to stay with the times.
"Museums tend to be considered as vaults as opposed to be living places and this museum is really a living space," Hunter said. "It's evolving, it's growing, it's changing, we've done a number of temporary exhibits over the years."
Mayor Michael Fougere said the change to the museum is welcome news.
"To be able to provide greater accessibility to the building, for one thing, in terms with the elevator being put in, and now we have Scotty (the T. Rex) coming in here, the dinosaur will be coming here eventually," Fougere said. "This is good news as a destination for tourism, it's great for our cultural identity as a province, and it's wonderful for the city of Regina, no question."
Scotty the T-rex was discovered outside of Eastend in the early 90's. There are two castings of Scotty, meaning the casting currently on display in Eastend will not be disturbed.