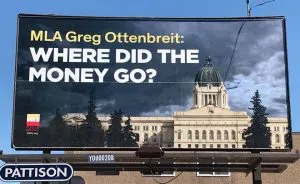 A billboard is up in Yorkton asking Yorkton MLA Greg Ottenbreit "where did the money go?" They've been put up by the SGEU to highlight what they see as the SaskParty's mis-spending of finances in the province.
Ottenbreit says a lot of government spending has targeted specific areas like health care, education and infrastructure.
He also says it's somewhat hypocritical for the union to ask where did the money go, since a large part of the budget goes to pay public sector workers.
(GX94)