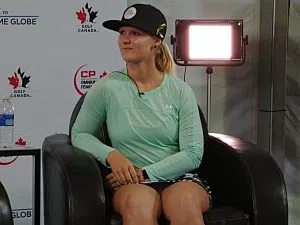 Saskatoon's Anna Young doesn't know when she will become a full-fledged member of the LPGA Tour, but she is hoping it happens Sunday night if everything goes her way as a win would mean she gets her card.
Young, who currently plays on the Symetra Tour and has two wins to her credit,  is one of two Saskatchewan golfers in the field at the CP Canadian Womens Open which starts Thursday at the Wascana Golf and Country Club.
The 24-year-old is a five-time Saskatchewan amateur ladies golf champion.  She received an exemption into the tournament earlier this year which came as a big thrill for her.
"It is really exciting!" Young said on Tuesday. "It's nice that I finally am getting a chance to compare my game to the best in the world.  I think it will be good to see what aspects of my game needs to be better."
Young was visiting friends last year so she had a chance to play the Wascana then, but before that she hadn't walked the course since she was 14 so she knows it will be a lot different now because her game has changed.  She also knows what needs to be done if she is to be successful.
"If the wind gets up, keeping the ball in the fairway will be very beneficial.  Even today, my caddy (Danny Klughart) and I were talking about if you land it in the rough on your drive, it will take off so keeping it on the fairway will be a focus.
Young knows many young golfers will be watching her and the other stars of the LPGA this week.  She says the one tip of advice she would give to those youngsters is simple.
"Work on your short game". Young said. "I didn't realize how important your short game is until I moved to the US. Everyone in the States has a much longer playing time while we only get about five months if we're lucky. So I would say work on your short game and be your best at that.  When you start playing at bigger tournaments, you realize how important it is."
Young will get her tournament going at 12:15 Thursday afternoon.  A complete look at Round 1 tee times can be found here.