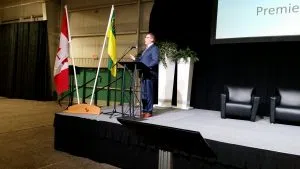 The Provincial government has changed its position on arbitration in the teachers' contract dispute.
Government officials weren't willing to commit to the arbitrated outcome last May but have reconsidered.
Premier Scott Moe told over 3000 delegates at the Saskatoon Teachers' Association Annual Convention his government will adopt the arbitrator's upcoming ruling.
Moe said the change of heart came after visiting classrooms and consultations with teachers, trustees and parents during and after the Sask Party leadership race.
The Premier concedes the decision will have an impact on the budget but indicated the new teachers' contract will be worked in while striving to meet their goal of balancing the books in 2019-20.
Moe maintained honouring the arbitrator's decision will not have a financial impact in the classroom.
The Premier also felt agreeing to honour arbitration in the teachers' talks will not have an impact on negotiations with other unionized provincial workers. Moe said each set of negotiations will be dealt with on an individual basis.
(CJWW)