What a great way to launch our first of three 620 CKRM Country Cookouts.
After I spent my day in Glenavon, meeting some of the locals and 620 CKRM listeners, we headed out to the Garnet Ennis Farm where Jordan Schmidt registered to have our crew come out and provide a fantastic meal, entertainment and get a chance to make some great memories.
I love getting a chance to have our "finger on the pulse" of the Saskatchewan farmer.  What a fantastic atmosphere and location to rub shoulders with the past, present and future generations of our Ag industry and their families and friends. This always brings out the sentimental feelings I have for the harvest season.
This is all possible because of our 620 CKRM family members and sponsors such as Markusson New Holland, Warner Industries, The Tap and of course Peg's Kitchen.
I also want to send a shout out to JJ Voss for providing some great music and stories. "The Cupar Kid" also hails from the farming community so he has an appreciation for the farming lifestyle.
Thanks to all involved and I for one can't wait for the next cookout.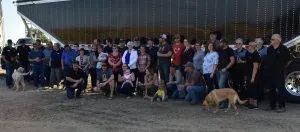 Just a great bunch of people enjoying the times.