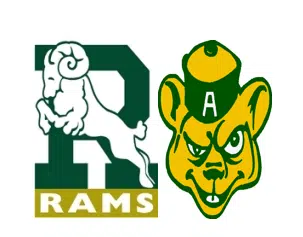 The Regina Rams head into Edmonton Friday night for a Canada West football battle against Alberta in a matchup of teams that lost their opener.
While Alberta was routed by the Huskies in Saskatoon by a score of 42-0, the Rams were involved in a high-scoring affair with Calgary at home before losing 49-35 in a game they trailed 21-0 after one quarter only to lead 29-23 at the half.
Head Coach Steve Bryce feels both teams will be a little growly after losing their first game knowing you can't go 0-2 in a tight conference like Canada West and expect success.
Bryce is also hoping the back-and-forth against the Dinos served as a learning experience for his team.
"I think it was an opportunity for everyone to look in the mirror." Bryce said.  "I think everyone did some soul-searching.  We know we have to dig a little deeper and play a little smarter."
While a lot of attention was paid to Noah Picton in the team's loss to Calgary as the 5th year quarterback became the first in Canada West to go over 10,000 career yards, the performance of Atlee Simon was somewhat ignored. The Calgary Stampeders draft pick, who is also in his 5th and final year,hit the 3000-yard mark in career rushing in style on Friday, hitting the milestone when he busted out a career-long 75-yard rush for the Rams' first score of the game. Simon, who ended up with 146 rushing yards to take the early Canada West lead in that category, now has 3089 rushing yards in his career and needs just 107 more yards to break into the conference's all-time top ten.
620 CKRM will have the game starting at 7