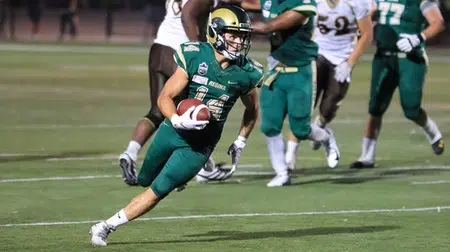 A big night by University of Regina receiver Ryan Schienbein has resulted in him being named the offensive player of the week by Canada West.
Schienbein tied his career high with 13 receptions, ended up with 176 receiving yards, and set a new career high with three touchdown catches in the 51-13 win in Edmonton over Alberta.
Through two weeks of the Canada West schedule, Schienbein has a conference-leading 19 receptions and also leads the league with four touchdown catches while his 215 receiving yards rank fifth.
Schienbein is also starting to make some serious headway on the U of R's all-time receiving lists. He's broken into the school's top ten in career receptions (116), ranks seventh in career touchdown catches (15), and is closing in on Addison Richards for 10th all-time in receiving yards.
The Rams will be back in action at home this Friday with a game against UBC in a battle of 1-1 teams at Mosaic Stadium. Kickoff is set for 7 p.m.