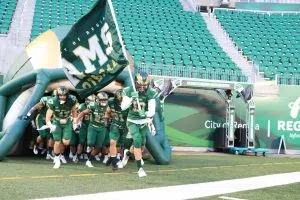 The University of Regina Rams face a team that has gotten under their skin somewhat over the past couple of seasons on home turf Friday night.
The UBC Thunderbirds, a team that has eliminated the Rams from the playoffs the last two years, are at Mosaic Stadium to take on Steve Bryce's crew in a battle of 1-1 teams.
The Rams are coming off a 38 point win in Alberta last week while UBC was beaten 57-7 in Calgary.   A loss like that was not expected, so Bryce is expecting a UBC team in a rather ugly mood to battle his squad.
"I imagine it wasn't a fun week of practice for those guys this week." Bryce said. "We are expecting a battle."
It is expected Noah Picton will climb up the all-time University passing yards chart again tonight.
The 5th year Rams quarterback goes into the game sitting fourth at 10, 618 yards, but he is less than 200 yards away from being number 2 all-time.
Game time is 7 o'clock and you can hear it on 620 CKRM.