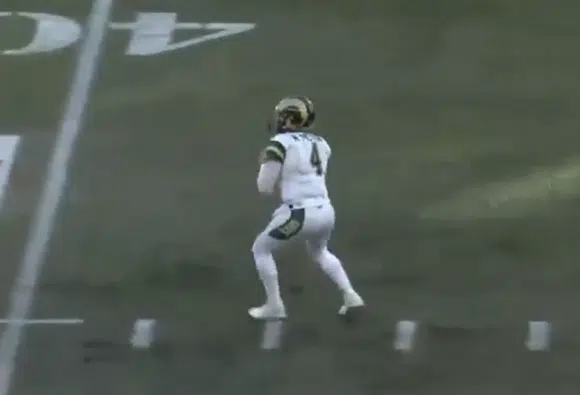 Cole Benkic's knockdown of a potential game winning two point convert allowed the University of Regina Rams to grab a 32-31 overtime victory in Winnipeg over the University of Manitoba Bisons on Saturday afternoon.
The Rams looked to have the game won when Ryan Schienbein hooked up with Noah Picton on a 51 yard catch and run for a touchdown with 7:13 to go to give Regina a 25-8 lead, but the Bisons stormed back to tie the game in the closing seconds setting the stage for Picton.
Picton connected with Kyle Borsa on a 35 yard pass in overtime to give him the yardage needed to surpass former Sherbrooke quarterback Jeremi Roch as Canadian university football's all-time leading passer as he has 11,496 yards.
When it was over, Picton was quick to give their opponents credit.
"That was a good football team we beat today." Picton said. " (Manitoba Coach Brian) Dobie instills a never quit culture in that team so you can never count them out and you saw how they can score quickly."
When it came to the record, Picton says it is nice, but he has to be better if his final season is going to be one to remember.
"I didn't play as well as I would have liked today. It's been frustrating the past couple of weeks because we haven't been executing as well and a lot of that is on me. " Picton stated. " I've got to dial in over the bye week and start playing better football if we are going to go anywhere this season.  At the end of the day though we got the win."
The victory improves the Rams record to 3-2 which is something that pleased Head Coach Steve Bryce, but he certainly wasn't pleased with the final quarter.
"They are loaded with talent, so I'm not surprised at what they did, but I'm glad with our perserverance for coming back and winning the game." Bryce said.
Bryce also said he never would have gone for the win like what Manitoba did in overtime because that isn't his style.
"I make pretty conservative calls." Bryce said. "I don't want to do anything to jeopardize a victory for the team.  I think that was a little too risky. I wouldn't have done it, but he (Dobie) has a riverboat gambler attitude.  He even said after the game, you live by the sword, you die by the sword."
Borsa had a huge game for the winners.  He ran the ball 16 times for 128 yards and a touchdown while  catching five passes for 97 yards including the overtime touchdown. Add that to returning four kickoffs for 68 yards to finish with 293 all-purpose yards, the fourth highest single-game total in U of R history and the most since Neal Hughes had 300 back in an October, 2003 game at Alberta.
The Rams, like the rest of the conference, will have next weekend off.  The next game is Friday, October 12 when the University of Alberta comes to Mosaic Stadium in a 7 o'clock start.