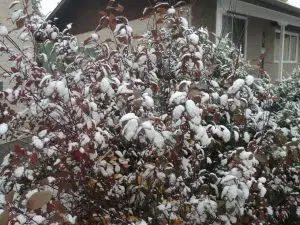 Reginans and others across southern Saskatchewan are waking up Monday morning to find snow on the ground and on their vehicles.
Just over a centimetre has come down, but it is not causing any problems on city streets due to the temperature.  The Highway Hotline is reporting roads are wet and subject to freezing on area highways.
According to Environment Canada's Natalie Hasell, the white stuff doesn't look to be sticking around for long.
"Daytime temperatures should reach above zero everyday of the forecast," she said.
It's not uncommon to see snow at this time of year. However, Hasell pointed out it is very much so uncommon to see temperatures as cool as they are.