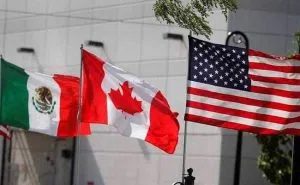 Both the Regina and District Chamber of Commerce and the Saskatchewan Chamber of Commerce are expressing delight with news that Canada, Mexico and the United States have come to an agreement on a new trade deal.
Regina Chamber of Commerce District CEO John Hopkins says it is a win, win, win for all trading partners, but if the negotiation has taught us anything it is that Canada must diversify our trade mix given our over reliance on the United States.  He adds the announcement means Canadian business from coast-to-coast can now get on with the business of trade with our number one trading partner which will protect Canadian jobs, government revenues and economic opportunities.
Saskatchewan Chamber of Commerce CEO Steve McLellan says all three countries come out winners in the revised trade agreement.
He says while the full details haven't been announced, he hopes it will soon be formalized and trade discussions can go back to what we trade versus how we trade.