What is with guys and our obsession with planes, trains, and cranes? Perhaps it's due to the fact they're all powerful mechanical beasts, invented by humans, with incredible capabilities. As long as I can remember I've been obsessed with trains and I'm fortunate enough to live not far from the railroad tracks. Most people cringe the minute they see or hear a train, especially on Albert street during rush hour, but I have no problem watching those steel beasts roll on by as the ground shakes and rail cars rattle. Not just the power of these locomotives drives the love affair of trains, their history is fascinating as well. Without the trains, Canada would not have been united in the 1800's. Without trains, many of the small towns wouldn't have started up across the prairies, and without trains vital supplies could not reach their destination. One could say a train is Canada's oldest friend. They're always going, always moving supplies, and always keeping us connected as a nation.
Now, how about airplanes! As a kid I loved meeting relatives at the airport so I could look out the window and just watch the planes take off. It's even more fun being in a plane as it takes off! The sound of the engines as the thrust is applied and you're sucked back into your seat as the pilot begins to lift us up into the sky. WOOO HOOO! Like trains, airplanes have also played important roles in Canadian history from helping sick and injured folks in remote places to delivering mail from loved ones to people across the country. Like trains, planes are powerful beasts of engineering. How many times have you heard about a new giant airplane that you just HAD to Google to learn more about. How many passengers? What kind of engines? What are its capabilities? These are questions we love doing the research on because, well, planes are just cool!
I think we're just as obsessed with cranes too! Yesterday (Oct 10) part of Rose street was blocked off because of crane work. I spent at least 15 minutes standing and watching as workers hooked up some sort of large item and hoisted it to the roof of Century Plaza, downtown Regina. A crane's function is relatively simple but they're just so interesting. Throughout my career I've had the good fortune of staying at downtown hotels in various cities and there's usually high rise construction going on which means, you guessed it, cranes! They're like magnets because you can't just not look and watch what they're doing. The higher the crane, the cooler it is!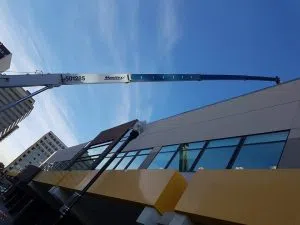 So, if you find yourself attracted to planes, trains, and cranes you're certainly not alone. As awesome as these mechanical engineering marvels are, it's important to watch them from a safe distance away and out of the construction zone so workers can do their job. We need those workers safe so the rest of us can enjoy watching these mammoth beasts in action!