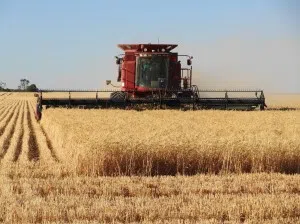 With over 20 percent of the 2018 harvest yet to be completed, there are many looking for warm, dry weather so they can get their combines back on the field.
A snowy, wet October has delayed harvest significantly, but that wet, cool weather is being replaced by sunny, dry weather.
Environment Canada's Natalie Hasell says it should provide farmers who haven't been able to get their crop off to get back on the field and do so.
"We are certainly in a dry pattern right now with temperatures that will be into the mid-to-high teens later this week." Hasell said. "That warm air shows no sign of dissipating any time soon and there doesn't seem to be much moisture if any in the forecast either so this is the right time for farmers to get into the field if they need to."
As for when we will see more snow, Hasell can't say, but she does feel as if won't be until November.