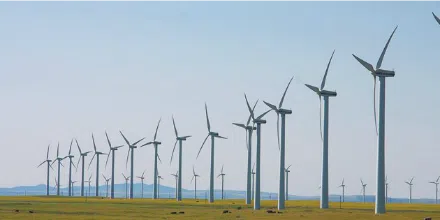 The province's power authority is moving ahead with an renewable energy project.
SaskPower announced Friday Potentia Renewables as the successful proponent for the Golden South Wind Energy Facility near Assiniboia. Up to 60 turbines will be built and 200 megawatts of power added to the system, enough to power 90,000 homes.
"We've set a goal of a 40% reduction in SaskPower's greenhouse gas emissions by 2030," said Environment Minister Dustin Duncan. "You will be seeing, I expect, a number of these announcements over the next year, end of this year, next year as well as into the 2020's to get us to that goal by 2030."
Saskatchewan has a goal to have wind energy comprise of 30% of the province's electrical generation capacity by 2030. As to where this project bring that percentage up to, Duncan didn't say.
"It's a bit of moving target, in part because of the ongoing work that we're doing with the federal government," he said. "I would say that we have a significant amount of renewables that we need to add to the system by 2030."
15 proponents for the project were pre-qualified through the RFQ, putting forth 29 proposals, the average price being $42/megawatt hour.
"We will give a more approximate price on Potentia's actual bid after next week because Alberta has a competitive process that ends early next week, so we don't want to influence their process."