Saskatchewan farmers made good harvest progress this past week following a month of delay caused by rain and snow.
Provincial crops specialist Shannon Friesen says 92 percent of the crop is in the bin, up from 82 percent last week.
Friesen says farmers will need at least a week of warm dry weather to wrap up combining.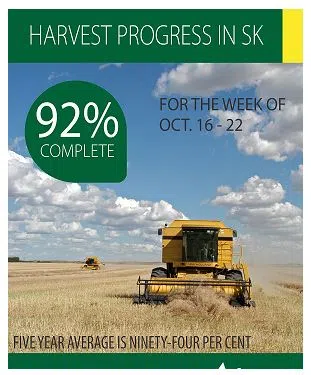 Harvest ranges from 97 percent in the southwest to 82 percent in the northwest.
Topsoil moisture is rated 2 percent surplus, 65 percent adequate, 28 percent short and 5 percent very short.
The main causes of crop loss was due to bleaching, sprouting, as well as geese and other wildlife feeding on swaths.
Some standing crops have shelled out on the ground.