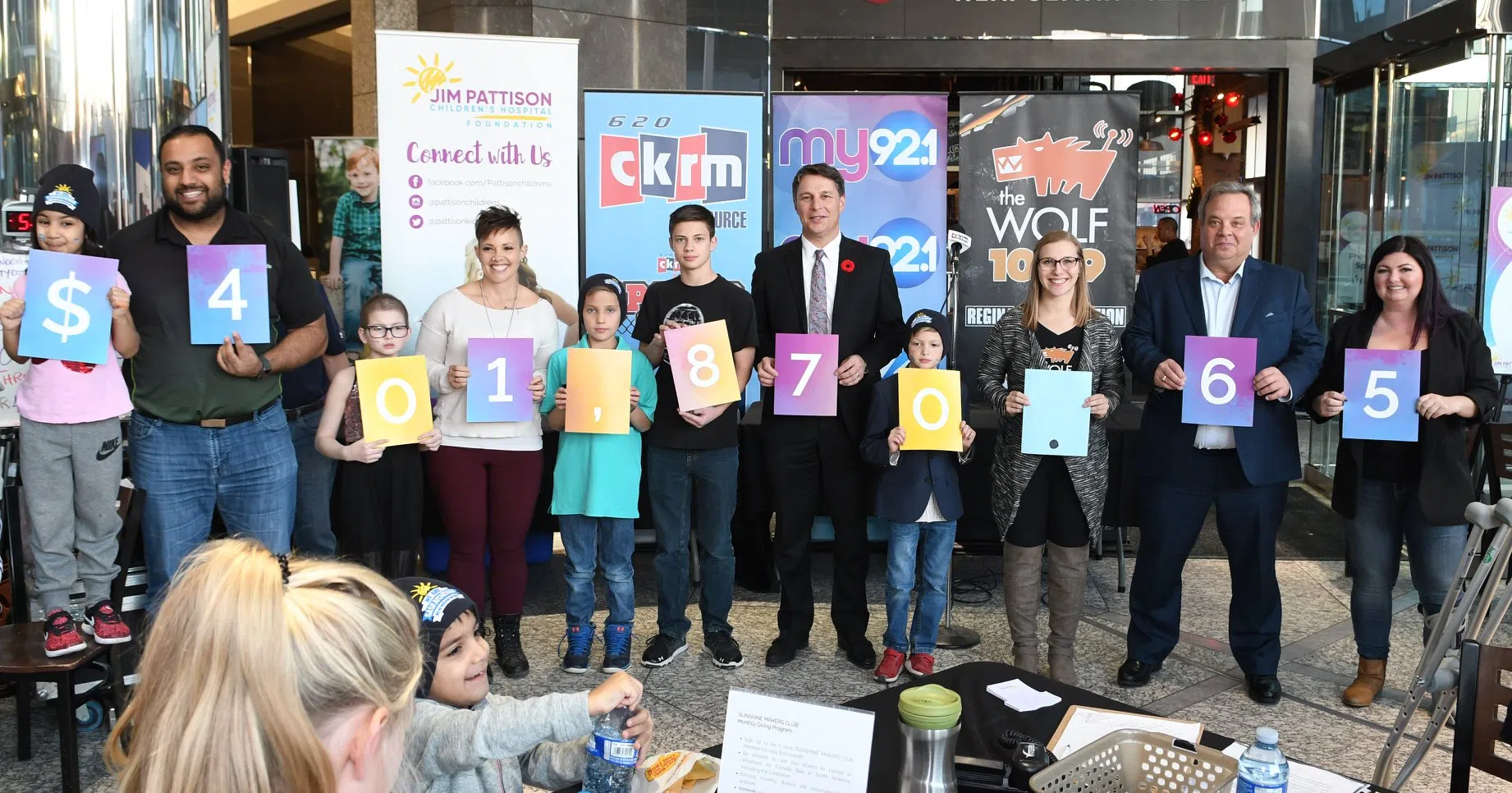 The numbers are in.
$401,870.65  was raised for the 16th Annual Jim Pattison Children's Hospital Radiothon, an event broadcast live over the course of Wednesday and Thursday on 620 CKRM and our sister stations, My 92.1 and 104.9 The Wolf from Hill Tower #2 in downtown Regina.
And the grand total…@620ckrm, @MY921Regina & @thewolfrocks have raised over $400,000 for the #JPCHFRadiothon!#KPlusS4Kids #Sask #news pic.twitter.com/hyNmUhJzr2

— David Boles (@DavidJBoles) November 8, 2018
Throughout the event, inspirational stories were shared from several kids, as well as their parents.
"These are real stories from real people who live down the street, in your community, maybe in your neighbouring community," said Sash Broda, Manager of Development and Engagement for the Jim Pattison Children's Hospital Foundation.
Donations to this year's event will equip Jim Pattison Children's Hospital's dedicated pediatric surgical suites with IV Infusion Pumps, Patient Monitor Systems and Pediatric Defibrillators. The suites, with a capacity for 5,000 pediatric surgeries every year, will
include integrated induction rooms allowing parents to be with their child while anaesthesia is administered
RELATED
Throughout the last two days, the hashtag #KPlusS4Kids was used on social media, with $5 being donated for every tweet or retweet. Several notable public figures used it, including Saskatoon native and St. Louis Blues forward Brayden Schenn and Premier Scott Moe.
Help raise money for the first ever Children's Hospital in Saskatchewan. Opening in 2019 by using the hashtag #KPlusS4Kids. $5 is donated for every tweet or retweet! @PattisonKids

— Brayden Schenn (@Bschenn_10) November 7, 2018
"The beautiful thing, I think with social media too, you can get people like Brayden Schenn who are from Saskatchewan but not here at the moment. I mean, you can reach people far and wide," said Broda.