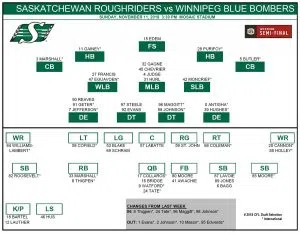 Marcus Thigpen and Drew Tate are in, but Shaq Evans and Tre Mason are out and the depth chart says Zach Collaros will be the starting quarterback for the Saskatchewan Roughriders when they meet the Winnipeg Blue Bombers in the CFL's Western Division Semi-Final Sunday afternoon.
Defensive linemen Curt Maggitt and Cory "Poop" Johnson also slide on the game-day roster with Jovon Johnson and Lavar Edwards coming off.
While Collaros is listed as the starting quarterback, there has been no confirmation from Head Coach Chris Jones that he will be or if he will even play.
Collaros' status has been a mystery since he left the last regular-season game of the year on October 27 against BC after taking a helmet-to-helmet hit from BC's Odell Willis.  While it is thought he suffered a concussion, the team has not come out and said if one was sustained or not.   Collaros missed time earlier this year after suffering a concussion during a game in Ottawa.
620 CKRM will have the game for you starting with the pre-game show at 12:30 followed by the play-by-play with Rod Pedersen and Luc Mullinder at 3:30.