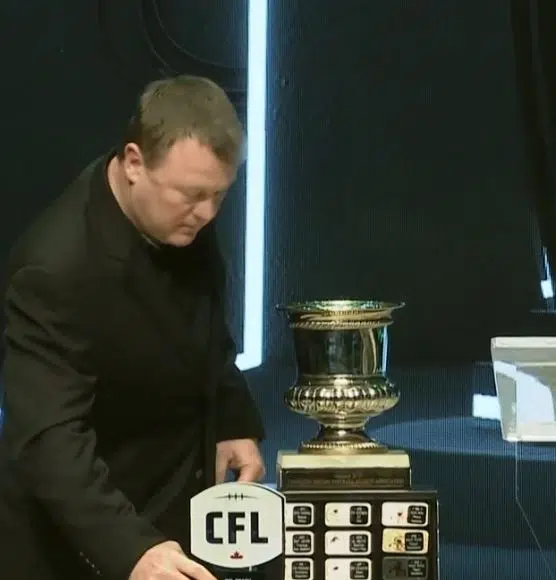 Saskatchewan Roughriders Head Coach Chris Jones, was named the CFL's Coach of the Year Thursday night in Edmonton at the leagues annual awards ceremony.
Jones, known for his defense, took the Riders to a 12-6 record and their first home playoff game in five years this past season.
Jones was first to credit his staff and the fans for the award.
"It' ain't about me, I can assure you I've got a tremendous staff, our operations people are great, and you have to remember our fans, we've got a great group, Rider Nation is outstanding, " Jones said followed by a roar from Rider fans in attendance.
The league is also something Jones showed he is very passionate about in his comments Thursday night.
"You don't never know what you have until it slaps you in the face, this is such an outstanding league with a bunch of great people, the people in this room, you just don't realize how good they are until you've been around them as long as I have," Jones said.
2018 CFL Coach of the Year: #Roughriders Head Coach Chris Jones. Coach Jones led the team to its first playoff home game since 2013 and 12 wins, the most since the 1970 season. #CFLawards #CFL

— CFL Football Operations (@CFLFootballOps) November 23, 2018
Riders receiver Jordan Williams-Lambert was also nominated for rookie of the year, that ultimately went to Ottawa's Lewis Ward.
Bo Levi Mitchell was named the leagues most outstanding player.
Mitchell's Calgary Stampeders will face Ward's Ottawa REDBLACKS on Sunday for the CFL's 106th Grey Cup.
Here's a complete list of all the winners Thursday night;
Most Outstanding Player Bo Levi Mitchell
Coach of the Year Chris Jones
Most Outstanding Offensive Lineman Stanley Bryant
Most Outstanding Defensive Player Adam Bighill
Most Outstanding Special Teams Player Lewis Ward
Most Outstanding Rookie Lewis Ward
Most Outstanding Canadian Brad Sinopoli
Commissioner's Award Pierre Vercheval
Jake Gaudaur Veterans' Award Rolly Lumbala
Tom Pate Memorial Award Ryan King
Hugh Campbell Distinguished Leadership Award Wally Buono