Rider fans can start planning their summer as the CFL has released the 2019 schedule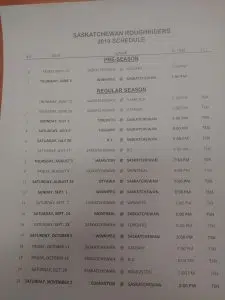 The season will open with the team playing two straight road games in Eastern Canada starting Thursday, June 13 in Hamilton with another game happening in Ottawa seven days later.
The home opener will happen July 1 at 5 PM against Toronto and will be the first of three straight home games.
The team will finish with three of their last four on the road with the final game of the year happening Saturday, November 2 at home against Edmonton.
Six of the nine games will be played on a Saturday with the others going Thursday, August 1 against Hamilton and the annual Labour Day Classic against Winnipeg on September 1.