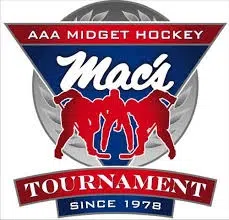 The Mac's Midget Triple A hockey tournament is ready to go for a 41st season with a solid contingent once again representing Saskatchewan at the Calgary event which begins on Boxing Day and wraps up January 1.
Of the 25 teams taking part, six will be from Saskatchewan including the defending champs–the Regina Pat Canadians.
Other teams from the Saskatchewan Midget Triple A league taking part are the Notre Dame Hounds, Saskatoon Blazers, Beardy's Blackhawks, Swift Current Legionnaires and the Saskatoon Contacts.
At the Christmas break, the Blazers lead the Saskatchewan Midget Triple A league with a record of 24-6-0-2.