We have a lot of really interesting "official" symbols and emblems in our province. For example, did you know potash is Saskatchewan official mineral? The white-tailed deer is our official animal, paper birch is our official tree, and curling is our official sport. What about an official song?
This question stems from a proposed bill in the Montana State Legislature to make "The Hippy Hippy Shake," the official rock and roll song of Montana. According to the Great Falls Tribune newspaper a state representative from Havre, MT wants to make the song official in 2019 because the writer, Chan Romero, hails from Billings. He was only 17 when he wrote the song back in 1959. The Beatles originally recorded the song, then the Swinging Blue Jeans covered it in 1963, and the Georgia Satellites revived it in 1988 just in time for the movie "Cocktail" with Tom Cruise.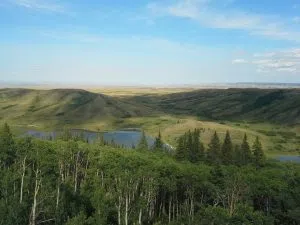 When I think of Saskatchewan songs I think of "Last Saskatchewan Pirate, "Running Back to Saskatoon," and "Roll on Saskatchewan" from Stompin' Tom. Those are just a few that roll through my mind. Perhaps it doesn't even have to be a Saskatchewan themed song, after all, "The Hippy Hippy Shake" isn't really Montana themed per se, it was just written by a former Montana resident. We certainly have a lot of talented songwriters in our province!
So there you have it. Saskatchewan needs an official song! Your mission today, should you choose to accept it, is to think of a good song that our legislators should consider as the "Official Song of Saskatchewan."