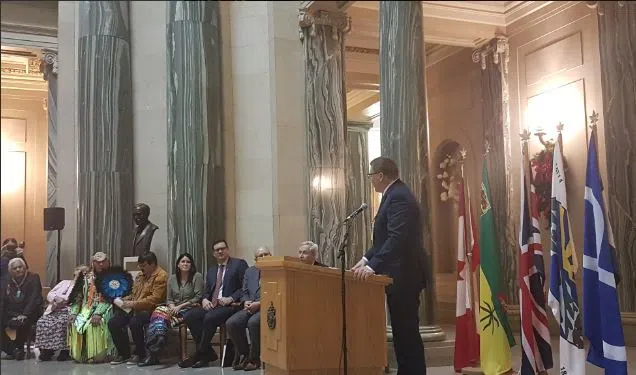 On behalf of his government, Premier Scott Moe apologized for Saskatchewan's role in the Sixties Scoop
From the 1950's to the late 80's, thousands of Indigenous children were taken from their birth families and placed with others.
"We failed."

Premier Scott Moe apologizes for Saskatchewan's role in the Sixties Scoop.@620ckrm #YQR #SK #Sask #skpoli #cdngov #news pic.twitter.com/ATra7OVEm3

— David Boles (@DavidJBoles) January 7, 2019
"On behalf of the Government of Saskatchewan, and on behalf of the people of Saskatchewan, I stand before you to apologize," said Moe. "We failed the survivors we heard from in the sharing circles and so many others. We failed their families. We failed their communities."
"We failed."
RELATED
The apology, which came without compensation, was informed by sharing circles held across the province, conducted by the Sixties Scoop Indigenous Survivors of Saskatchewan.
Moe said those running the child foster and adoption programs in the province felt they had the legal obligation to act at the time, but they were wrong to do so.
"During the Sixties Scoop, not nearly enough consideration was given to the fact that Indigenous children come from communities with their own rich traditions, their own rich culture and history."
Saskatchewan is the third province to formally apologize for their role, after Manitoba in 2015 and Alberta, who apologized in May 2018.
The Next Step
Now that the apology has been delivered, what's the next step?
The Premier said it's continuing to provide the services people across the province require.
"That is the effort that we have always had and that is the effort, I think, that we had discussions about through these sharing circles."
RELATED
Moe said they'd also continue talks, some of which involve more sharing circles.
Apology Accepted?
The memories of the experience still haunt many survivors, including those present at the Legislature on Tuesday.
One of those present was Lori Deets from Moose Jaw, who was taken from her family in the 80's and placed with a non-Indigenous family.
"I grew up in a very white community, still live in a very white community," she said. "I really have an understanding of walking with my feet in both worlds."
RELATED
For Deets, she's not sure if it's meaningful.
"I hate to say no, but I can't say yes either," she said.
One man was more unequivocal in his stance on the meaningfulness behind the apology.
This is Chief Wayne Semaganis from Little Pine First Nation, who wasn't satisfied with the apology

"I will never see my grandmother happy that she got her grandchildren back, she never did get her grandchildren back."#YQR #SK #Sask #skpoli #cdnpoli #news pic.twitter.com/UE9PjYmL5m

— David Boles (@DavidJBoles) January 7, 2019
Chief Wayne Semaganis from the Little Pine First Nation wasn't satisfied.
"I will never see my grandmother happy that she got her grandchildren back, she never did get her grandchildren back. My aunt to get her children back, no she didn't," he said.  "A lot of the strength that I have is because of them."
"The struggles that I went through as a young man, trying to grow up to be strong enough, smart enough and well educated enough that I cannot allow these things to happen to my family. And now, as a chief of my community, those are the positions I have to take."
(with files from Ryan McNally)