(Pictured: Alix Norum with Mayor Michael Fougere)
What a great way to kick off a weekend! I was fortunate to have been able to emcee the annual Red Cross Power of Humanity Awards Gala at the Ramada Plaza, downtown Regina Friday evening. It's a fundraising event that brings awareness to the hard work and generosity of local citizens. To honour those who volunteer without hesitation, simply because they know it's important and to recognize those who support projects through philanthropy and to make sure those projects start and end successfully. Friday night, Duna Barber and Alix Norum were those individuals who were honoured.
"I started volunteering a very long time ago when I was really young, probably three years old, with my parents. We would do Relay for Life, Terry Fox, and different things in our community and it just kind of continued on," smiled Norum, who received the Young Humanitarian Award.
The Tisdale girl attends the University of Regina and continues volunteering with the Best Buddies Chapter at the U of R, involved with Astonished, a program to help those with complex physical disabilities, as well as helping organize the annual U of R Relay for Life event.
"I just want others to not see differences or the challenges in others, but rather celebrate the uniqueness and take the time to get to know others and find ways that you can really help each other out," added Norum.
Duna Barber of Regina Beach picked up this year's Humanitarian of the Year award. She has been investing in organizations and causes that she really believes in for many years including Carmichael Outreach, STARS, Soul's Harbour, the Canadian Red Cross, and many others.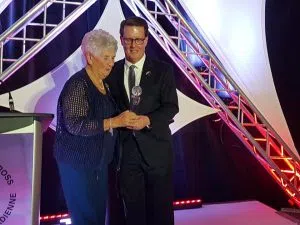 (Duna Barber with Mayor Michael Fougere)
"There are so many needy people out there and if you can just even help them a little bit, it's all appreciated," said Barber.
She and her husband, the late Lloyd Barber, moved to Regina Beach many years ago and that is where she became a first responder with the Red Cross, dealing mostly with house fires. Barber and her husband had six children and she believes it's important to instill those volunteerism traits in kids.
"You're trying to teach them the right things to do and when you can see a need, step in, kids," Barber stated.
Approximately 220 people attended the awards gala which included raffles for Riders, Pats, and Country Thunder Saskatchewan packages and a trip for two to Mexico was given away.