Students, instructors and others gather in front for a photo following Monday morning's celebration. (Photo: Moises Canales/620 CKRM)
Sunny and breezy weather made it a perfect morning to hold a celebration for Regina and area high school students who participated in a building project in the city.
Students from Regina Public Schools, Regina Catholic School Division and Prairie Valley School Division were at Haultain Crossing Build Site Monday morning, the site where they've spent numerous hours learning and constructing a home in partnership with Habitat for Humanity Regina.
The project provided high schoolers a chance to learn in a real construction environment through the Trades and Skills Construction Apprenticeship Program (TASCAP) while also helping out a family in need of an accessible home.
Dessie Grebreyesus is the recipient of the new home the students helped build for him and his family. Born and raised in Ethiopia, Grebreyesus spent time in Kenyan refugee camps and living in Uganda as a refugee after leaving his home due to political tensions.
It wasn't until he was sponsored by the Knox Metropolitan United Church in Regina that he arrived to his new country and eventually became a Canadian citizen in 2013. He also accomplished schooling in the Queen City to become a nurse and now works in the Regina Qu'Appelle Health Region.
His current apartment near Regina General Hospital is deteriorating, and with rising prices in the housing market making difficult for some to afford their own home, this space with Habitat for Humanity in east Regina has given Grebreyesus and his family hope.
"I'm very happy and excited to be a homeowner," he said. "Every week we come and visit the house since they started building."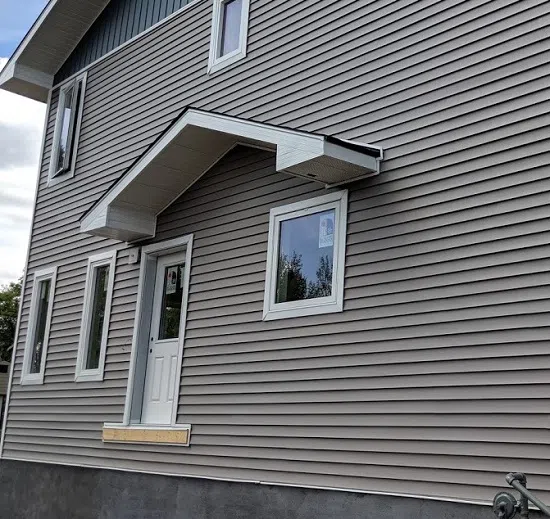 TOP: An access ramp will be built on the side of Dessie's home for one of his nephews who suffered spinal cord injuries in the accident in Africa. BOTTOM: Grade 12 student Pierce McLachlan from Yorkton Reginal High School was the recipient of a scholarship from TASCAP instructor Dustin Heron. (Photos: Moises Canales/620 CKRM)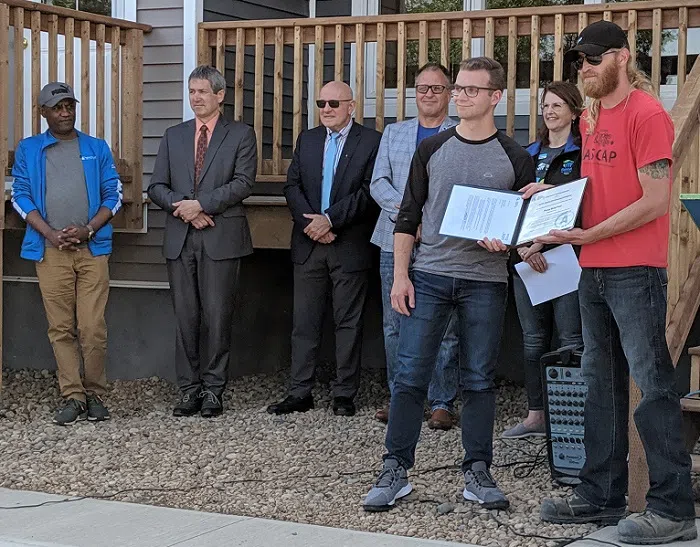 Grebreyesus is a single father/guardian to six after one of his siblings and their spouse were killed in a vehicle collision back in Africa.
Following their family's tragedy, Dessie stepped up to become the guardian of his nieces and nephews. Two of them have already joined him in Regina, while the remaining two will fly in from Africa to Canada to join them once their new home has been completed.
"I can build my equity, and my kids will be very happy and will feel confidence to invite their friends over to play. Since we are in the old apartment, they never invite friends because of the conditions in that apartment," he explained. "They'll be playing, they'll be happy, they'll enjoy life and can study well in their new house."
Present for the celebration barbecue were Executive Director for Regina Trades and Skills Centre Brian Shankowsky, Director of Education/CEO for Regina Catholic School Division Domenic Scuglia, and Director of Education for Prairie Valley School Division Luc Lerminiaux.
Each gave speeches to the students, families, friends and staff on hand for the event, crediting the hard work of everyone involved who helped make this dream a reality for so many.
Twitter: @MoisesCanalesJr