As the number of craft breweries in Saskatchewan begin to expand and interest in craft beers continues to rise, so does the need for hops. One Saskatchewan family near Moosomin, 224 kilometres east of Regina, has been helping provincial brewers get the hops they need to continue to make their product for thirsty customers. JGL Shepherd Farms started growing hops in 2017 after a trip to Colorado inspired Justin Shepherd and his father Guy to give it a try.
"Justin was living in Boulder, Colorado which is a hot bed of craft breweries and originally he was thinking of starting a craft brewery (but) that turned out to be a bit more complex than we wanted," explained Guy Shepherd. "Using our farming knowledge he decided maybe we should try the hops experience."
They started off with with a 1.3 acre hopyard on their farm between Moosomin and Fleming and over the years have expanded to a larger operation encompassing over 10 acres.
"That would probably be the largest hop farm on the prairies," stated Shepherd. "There's one at Boissevain (Manitoba) that's four acres. A lot of people start out with one to two acres (and) at that point you either get to 10 acres, if you can afford some of the infrastructure, or you pack it in."
Hops are considered a perennial that grow on a tall, vine-like plant, called bines, and are harvested for the production of beer. Hops are specifically used for the aroma, flavouring, and bittering of the beer in the beer making process. Shepherd says their family grows hops exclusively for the Saskatchewan craft beer market but they can be used in the making of soap and for the flavouring of certain kinds of water. Shepherd added the hop "fruit" looks similar to a small green floral pine cone with petals on it.
"They're used for the oils and the alpha acids that come out of them," he said.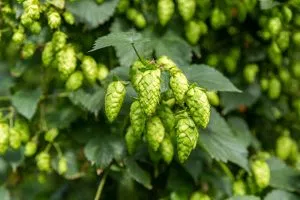 The harvesting process is quite labour intensive and requires the Shepherds to manually cut the bines down, which are then fed through a hop harvester. The harvester strips off the hops from the bines.
"Probably this year we'll have a machine that will cut the hops on a front end loader and, again, we will still have to feed them into a machine by hand," explained Shepherd.
After the hops are stripped off the bine they go into a dryer, then into a baling machine where they're developed into 150 pound bales, and then are finally sent through a pelleting process. Once they are formed into pellets they're packaged in a nitrogen flushed bag and sold to craft breweries in the province. According to Shepherd hop yields can vary on a per plant basis.
"On a bine, or one plant of hops, two pounds per plant and you'd have roughly 1,050 plants per acre, so 2100 pounds per acre would be considered exceptional yields," noted Shepherd.
Currently the family only sells hops to Saskatchewan beer makers, including to local Regina breweries. Shepherd says places like Rebellion, Malty National, and Pile O' Bones have used their hops in various products as well as in certain products made by Saskatoon breweries Paddock Wood, 9 Mile Legacy, and Great Western. He says they're in the initial stages of marketing hops and is hopeful they'll be developing new markets over time.
Click here for our entire interview.
(Photos by Andrew March for JGL Shepherd Farms)