Proper use of seatbelts and child car seats make up SGI's traffic safety spotlight for the month of March.
While it might be automatic for some people to wear their seatbelts when they enter a vehicle, statistics from SGI indicate there was an average of 34 deaths and 231 injuries from improper or non-seatbelt use in Saskatchewan between 2009 to 2018.
A/Cpl. Adele Breen with the Saskatchewan RCMP serves on their Forensic Collision Reconstruction program. Breen explained how fatalities as a result of not wearing or improper seatbelt use would have a different outcome had the victim worn it properly, adding seatbelts reduce the risk of injury or death by about 50 per cent.
She said it's still a problem among drivers and passengers in the province.
"It's a sad fact that we see it often that people aren't wearing seatbelts both in town and when driving on highways," stated Breen. "As for car seats, people try to install their car seats properly. But the reality is a lot of the car seats we're seeing nowadays are not installed properly."
Breen mentioned that about 90 per cent of car seats they check are not installed properly, however some are small corrections that can be easily fixed.
One story SGI is highlighting as part of this month's spotlight is the experience Regina residents Milissa Gavel and her 14-year-old son Kai Gavel had when they were involved in a high-speed rollover. The collision happened on December 2005 when Kai was only three months old on Highway 10 driving from Melville to Regina near Edgeley.
Milissa was in the vehicle with a friend and her infant son when her SUV hit a patch of black ice on the single-lane highway. She swerved to avoid other vehicles and ended up in the ditch where they rolled at least two times.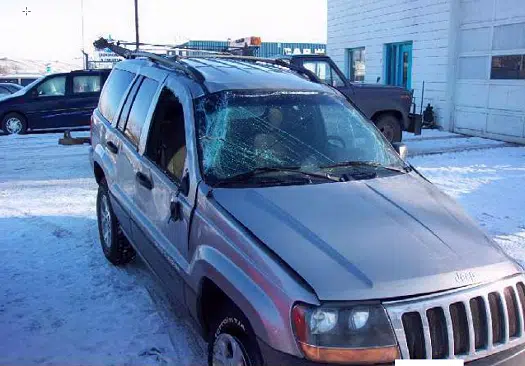 While there was a large amount of damage to the vehicle and Christmas presents scattered all over the area, Milissa, Kai and her friend remained in the SUV without any injuries – because everyone was properly secured.
Reflecting on the collision, Milissa said she can't imagine being in a vehicle without wearing a seatbelt now.
"I think it's something automatic for all of us, even my kids automatically put their seatbelts on and it's not something I have to remind them to do," said Gavel.
"I can attest to the fact that we wouldn't be here today had it not been for our seatbelts."
Her son Kai will soon be turning 15 years of age and will begin the process of acquiring his driver's license in the coming months. Whether it's his classmates or his friends, he said his experience is an important message he wants to share with others.
"I'm very thankful that my mom got me the proper car seat and made me safe when I couldn't control that."
SGI says drivers are responsible to make sure all passengers under 16-years-old are wearing their seatbelt or are correctly restrained, otherwise it could mean a $175 ticket plus three demerit points.