The Far North region of Saskatchewan continues to see COVID-19 cases.
On Thursday, the Saskatchewan government said there are 19 new confirmed cases of COVID-19 bringing the provincial total to 531.  15 of the 19 cases are in the Far North with 12 in La Loche.  The other four cases are in the North region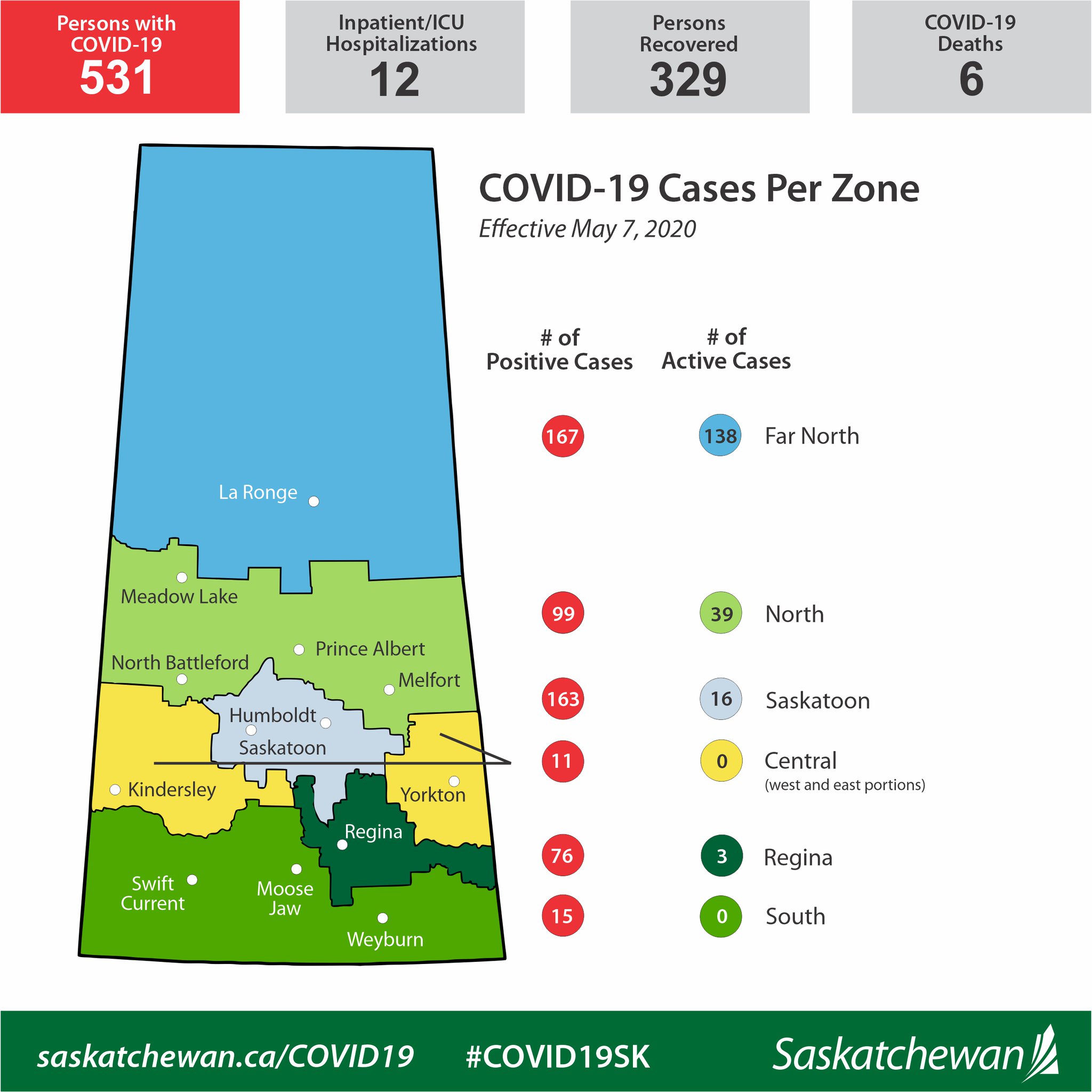 196 cases are considered active with 138 of those cases in the far North and another 39 in the North.
Seventeen people have recovered which brings the provincial total to 329.
Lloydminster Re-Open May 11
With the outbreak in the Lloydminster Hospital stable, Lloydminster may proceed with plans to open services and businesses as described in Phase One of the Re-Open Saskatchewan plan starting Monday, May 11. Services and businesses will be required to follow the phased approach and safety procedures required under the Re-Open Saskatchewan plan.
All residents must continue to follow necessary personal protective measures to prevent the transmission of COVID-19, including maintaining physical distancing, participating in no gatherings more than 10 people, washing hands frequently, etc.
Opening is at the discretion of the workplace, based on their risk assessment and ability to operate safely, protecting staff and customers. Proceeding with Phase Two will be determined by public health officials and local leadership.
Additional Guidance on Extended Households
Saskatchewan residents must continue to take measures to stop the spread of COVID-19.
This includes limiting gatherings to no more than 10 people – inside and outside – within an extended household group only.
With extreme caution and under the following conditions, one or two close families may form an extended household group:
• Your families or friends must remain consistent. Do not visit different families or friends every day.
• If you are going to create an extended household group, consider if any member of the group has chronic health conditions that would put them at greater risk, or if they are in close contact with someone who could be vulnerable. Avoid forming an extended household with vulnerable people.
• Families and friends within an extended household contact group can be closer than two metres if they are not high-risk.
• Physical distancing of two metres should still be practiced around people with chronic health conditions and caution should be used in gatherings to limit touching common items, such as utensils.
• You should always be aware of who you have been in contact with over the past two weeks. These are the people who would need to be contacted by public health if you were to test positive for COVID-19.