Nine people are facing charges, six of them from Regina and another from Pense, after nearly three million illicit cigarettes and more than $500,000 in cash were seized to end a 17-month investigation.
RCMP say the nine were charged after an interprovincial investigation started into illicit cannabis and tobacco products being distributed by a group based in Saskatchewan.
That investigation found cannabis products from B.C. were coming into Saskatchewan and then being exchanged for tobacco products in Quebec.
2,856,000 cigarettes were seized along with $573,000 in cash, 69.3 pounds of cannabis and 5,152 grams of shatter.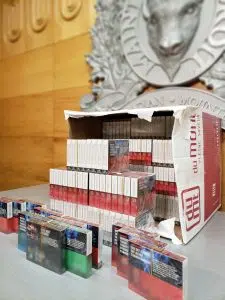 The nine face a total of 64 charges.  They make their first appearance next week in a Regina courtroom
Pictures: Courtesy Saskatchewan RCMP