The province is telling us of 22 new cases of COVID-19 in Saskatchewan Friday.  The new cases are located in the Far North East (2), North Central (4), Saskatoon (5), Central West (3), Central East (4), Regina (2) and South Central (2) zones.
26 recoveries puts the active case count at 139 as we go into the Thanksgiving weekend.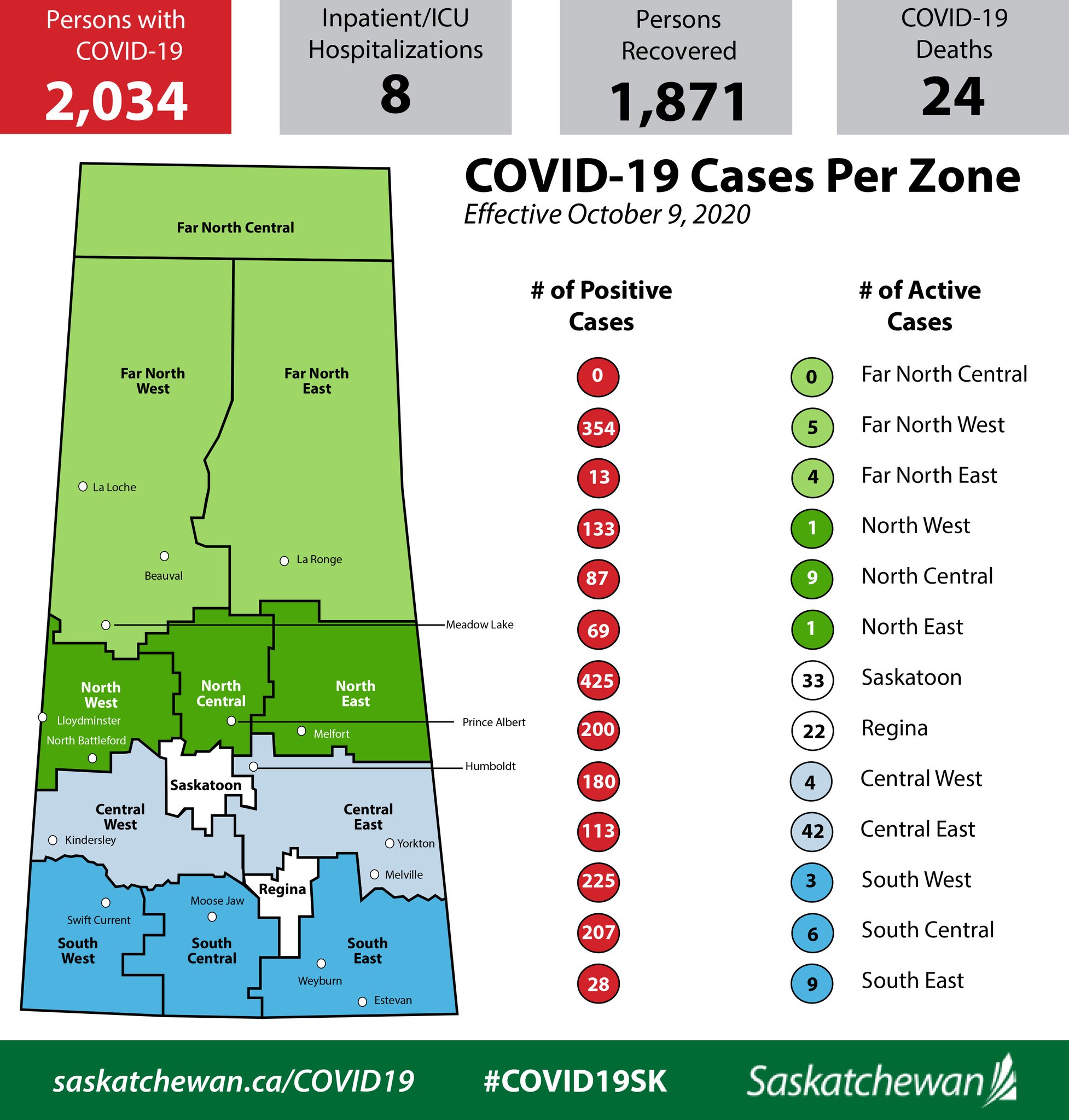 Eight people are in hospital.  Six people are receiving inpatient care; four in Saskatoon, one in Regina and one in the South West.  Two people are in intensive care; one in Regina and one in Saskatoon.
Of the 2,034 cases in the province to date:
308 cases are travellers;
1,004 are community contacts (including mass gatherings);
590 have no known exposures; and
132 are under investigation by local public health.
Overall in Saskatchewan to date:
77 cases are healthcare workers; however, the source of the infections may not be related to healthcare in all instances.
348 cases involve people 19 years of age and under, while the remainder are adults.
681 cases are in the 20-39 age range; 612 are in the 40-59 age range; 325 are in the 60-79 age range; and 68 are in the 80-plus range.
51 per cent of the cases are females and 49 per cent are males.
24 deaths related to COVID-19 have been reported to date.
There are:

460 cases are from the south area (225 south west, 207 south central, 28 south east)
425 cases are from the Saskatoon area
367 cases are from the far north area (354 far north west, 0 far north central, 13 far north east)
293 cases are from the central area (180 central west, 113 central east)
289 cases are from the north area (133 north west, 87 north central, 69 north east)
200 cases are from the Regina area
To date, 209,560 COVID-19 tests have been performed in Saskatchewan.  On Thursday, 2,330 COVID-19 tests were performed in Saskatchewan