For the first time since August 14, the province is reporting more than 30 new cases of COVID-19.   On Saturday, we were told there are 34 new cases of the virus.   The new cases are located in the Far North East (4), North West (1), North Central (7), North East (1), Saskatoon (3), Central West (2), Central East (11), Regina (3) and South East (2) zones.
Thirteen of the active cases in the northern zones have been linked to the Gospel Revival outbreak event, and nine of the active cases in the Central East zone have been linked to a single workplace and include employees and close contacts.  There are 12 recoveries putting the active case count at 161.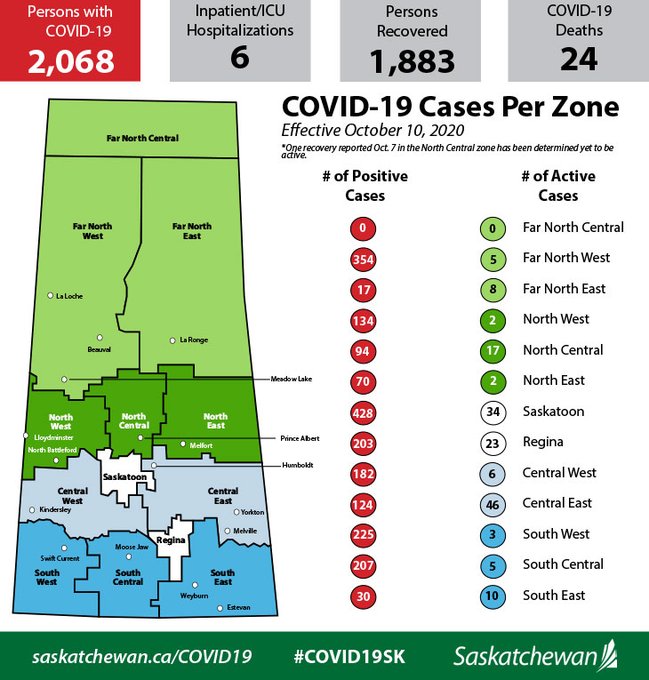 Six people are in hospital. Four people are receiving inpatient care; three in Saskatoon and one in Regina. Two people are in intensive care; one in Regina and one in Saskatoon.
1,760 tests were performed in Saskatchewan on Friday putting the provincial total at 211,320
Failure to Abide by Public Health Orders May Result in Fines
In Saskatchewan and across the country, public health authorities are seeing increasing transmission rates as a result of contravention of public health orders and guidelines, particularly as a result of public and private gatherings. There can be very serious consequences for not following Public Health Orders, including fines. Fines may be $2,000 for individuals and $10,000 for corporations, plus a victim surcharge.
As a number of contact investigations conclude, it is anticipated that fines will be issued in cases where negligence and misconduct have been found.