The Saskatchewan government will be reducing the province's gathering sizes in private residences to 15 people maximum starting later this week.
Dr. Saqib Shahab, chief medical health officer for the province, said the move is necessary with the increase in cases throughout the province connected to public and private social gatherings.
"We have to be clear that 15 is a maximum for a private gathering in a private home, but try to keep it to as many people as possible in your extended household," stated Shahab on Tuesday afternoon from the Saskatchewan Legislative Building in Regina. "That means two to three households, two to three close friends."
The amendment to the health order will be in effect Friday, October 16 at 12:01 a.m.
Shahab noted that the update will not impact restaurants, licensed establishments and banquet halls at this time. Weddings and funerals will have to follow seating and physical distancing guidelines listed in the Reopen Saskatchewan Plan.
Shahab is also strongly recommending masks be worn in all indoor public locations where physical distancing of two metres is not possible or predictable.
Health officials in Saskatchewan's daily COVID-19 update are announcing 34 new cases of the virus and 11 recoveries. This brings the active case count to 238. One month ago, that number was sitting at 99.
Of the 34 new cases, 11 are in Regina, nine are in North Central, eight are in Saskatoon, four are in West Central and two are from locations that are pending.
The Queen City is reporting the same amount of new cases it had on Sunday with the majority of those cases being linked to a single apartment complex.
Dr. Shahab didn't say where the building is located, but he mentioned there are three units out of about 30 that were involved in COVID-19 transmission.
"We know what to do in a retail environment, but what do you do in a larger apartment complex? It means when you are coming back to your apartment you put your mask on as you come in through the common door, in the elevator and the stairwell," he said. "We do it at work, so we should be doing it in a residential apartment building."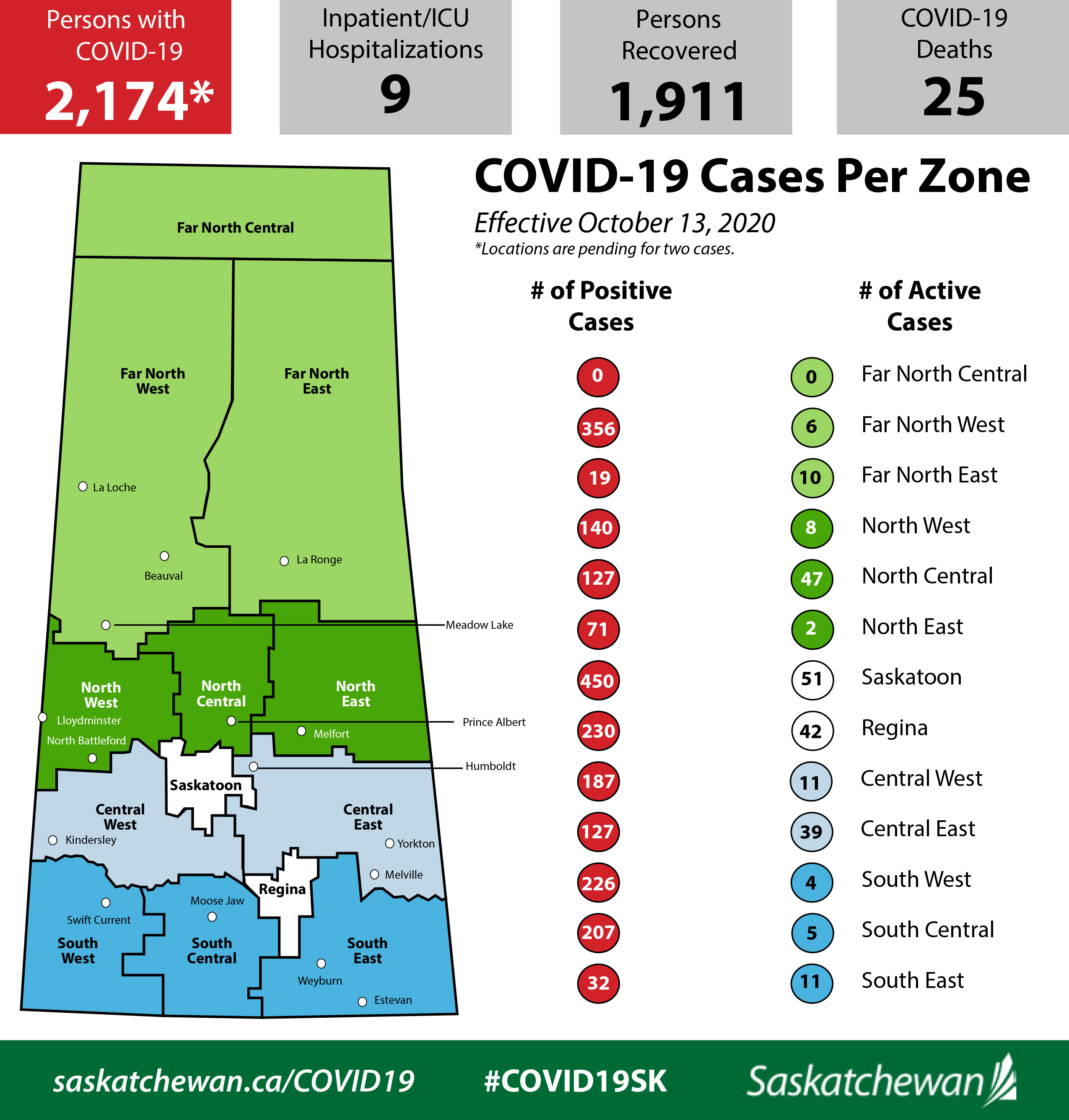 The government shared in a release on Tuesday that public health investigations continue to follow up on all new cases to determine if they have links to known events or if they are new transmissions within the community.
Nine people are in hospital. Seven people are receiving inpatient care; 4 in Saskatoon, 1 in Regina, 1 in North Central and 1 in Central East. One person is in intensive care in Regina and one person is in intensive care in Saskatoon.
2,037 tests were performed in Saskatchewan on Monday putting the provincial total at 218,959.
(With files from Moises Canales)