In the past seven days, there have been 236 new cases of COVID-19 announced in Saskatchewan. On Friday, the province announced another 40 new cases, bringing the active case count to 299 and the total number of cases since testing started in March to 2,270 cases.
The new cases are located in the Far North West (6), Far North East (7), North West (1), North Central (8), Saskatoon (7), Central West (1), Central East (2), Regina (7) and South Central (1) zones.
23 of the new cases on Friday have been linked to close contacts/gatherings. The government noted in Friday's COVID-19 update that superspreader events are not limited to those who attended the event itself, but quickly transmit in local settings.
The most recent summary data available indicates that 79 individuals in multiple communities have tested positive for COVID-19 are linked to the Gospel Worship event in Prince Albert, including case contacts of attendees. At least 250 contacts have been part of the contact investigation relative to this superspreader event.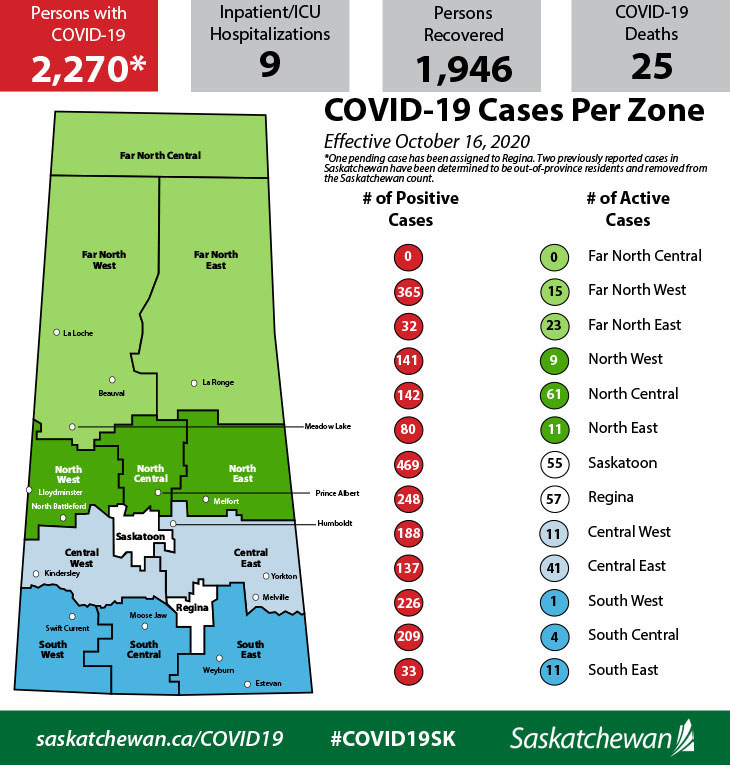 Saskatchewan's Chief Medical Health Officer, Dr. Saqib Shahab, said there is a rise in COVID-19 cases among young adults in recent days.
Shahab mentioned how 54 cases have been added in the 20 to 39 age range since Monday. He said this is a trend to be mindful of if people want to help limit the spread of COVID.
"We are seeing more cases in that young, active age group where people are obviously out and about at work and socializing," explained Dr. Shahab on Friday afternoon in Regina.
This comes as an amendment to the province's public health order changed the maximum number of people at an indoor private gathering from 30 to 15 effective 12:01 a.m. October 16.
Shahab reiterated the importance of following the province's gathering guidelines and suggested residents should revisit the principles applied in the spring at the beginning of the pandemic in order to reduce climbing case numbers.
He believes the pandemic will end sometime next year when a vaccine is hopefully available early 2021. But until then, Shahab said it may be time to slow things down.
"We all need to look at what we're doing at work, what we are doing when we are out and about," he stated. "We need to slow things down and bring our number of contacts down."
12 recoveries have also been announced meaning the active case count now sits at 299. At this time last week, there were 160 active cases meaning a jump of 139 over the last seven days.
Nine people are in hospital.  Two of those nine are receiving intensive care with one in Saskatoon and one in Regina.
2,568 tests were performed in Saskatchewan Thursday putting the provincial total at 225,532.
(With files from Moises Canales)