The Saskatchewan Health Authority is reporting 67 new cases of COVID-19 on Wednesday with 53 recoveries.  It puts the active case count to 666 with the number going up every day since October 9.
The new cases are located in the North West (7), North Central (7), North East (11), Saskatoon (25), Regina (15), and South East (2) zones and the one (1) case from yesterday pending location was assigned to the North Central zone.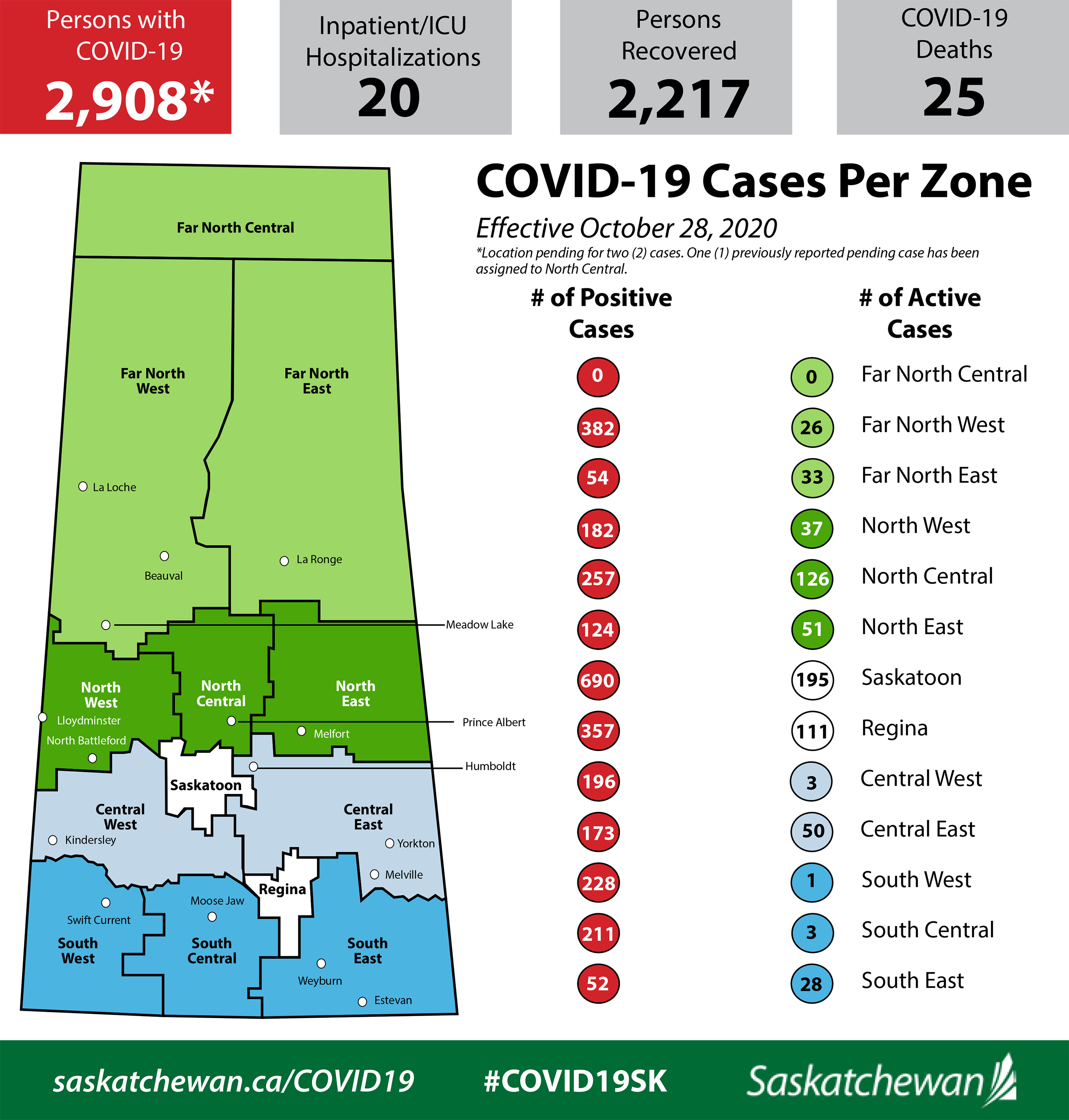 Twenty people are in hospital. Fourteen people are receiving inpatient care; four in the North zone, nine in the Saskatoon zone and one in the Regina zone. Six people are in intensive care; one in the North Central zone, four in Saskatoon and one in Regina.
The province is also issuing a new public health order effective Friday that will impact nightclubs especially in Saskatoon.
For nightclubs in the City of Saskatoon, enhancements include:
The consumption of alcohol in all nightclubs is prohibited from the hours of 10 p.m. to 9 a.m. for all persons, including patrons, staff, and owners;
Nightclubs must be closed to patrons at 11 p.m. until at least 9 a.m. the following day.  Takeout food services are permitted.
The order will also require all nightclubs in Saskatchewan to adhere to the following guidelines:
Six patrons to a table only
Static table groupings – no mingling among groups/tables.
Karaoke and dance floors remain prohibited.
Business owners and operators must ensure physical distancing within their establishments.
As outlined in the Reopen Saskatchewan Guidelines, mask use is required for staff.  It is strongly encouraged for patrons until they are seated.
Recommended for all establishments in Saskatchewan:
Bars/nightclubs/licensed establishments are recommended to take names and contact information of all patrons to assist contact tracing in the event of possible transmission.
Provincial chief medical health officer Dr. Saqib Shahab and health minister Jim Reiter will be discussing this further on Wednesday afternoon.