A person from the Regina zone in the 60-79 age group and a person over 80 from the north zone are the latest COVID-19 related deaths in Saskatchewan.
The news, which brings the total number to die from the virus to 53, comes on a day where the province reports 238 new cases and 84 recoveries putting the total active case count at 3,970 with the total number of reported cases since numbers started getting tabulated in March at 8,982.  The 238 cases on Wednesday puts the seven-day daily average at 274 or 22.6 cases per 100,000 population.
The new cases are located in the Far North West (6), Far North Central (3), Far North East (16), North West (17), North Central (25), North East (3), Saskatoon (109), Central East (4), Regina (36), South West (8), South Central (1) and South East (3) zones and seven (7) new cases have pending residence information.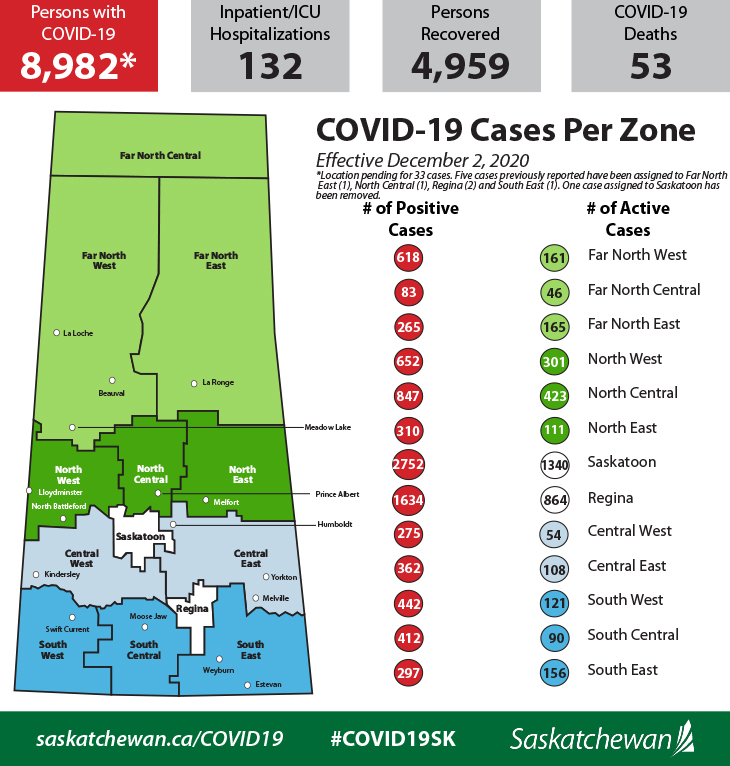 132 people are in hospital.  Of those 132, 26 are receiving intensive care.
Overall in Saskatchewan to date:
1,862 cases involve people 19 years of age and under, while the remainder are adults.
3,191 cases are in the 20-39 age range; 2,406 are in the 40-59 age range; 1,184 are in the 60-79 age range; and 334 are in the 80-plus range. Confirmation of age is pending for five cases.
50 per cent of the cases are female and 50 per cent are male.
2,473 tests were processed Tuesday in Saskatchewan putting the provincial total at 350,391.
Health Minister Paul Merriman and Chief Medical Health Officer Dr. Saqib Shahab will be speaking more about the numbers on Wednesday afternoon at 3 p.m