The province says three people, all from the Saskatoon zone, are the latest to die as a result of COVID-19.
The three were in the 30-39, 60-69 and 80-plus age bracket bringing the total number of people in Saskatchewan to die from the virus to 154.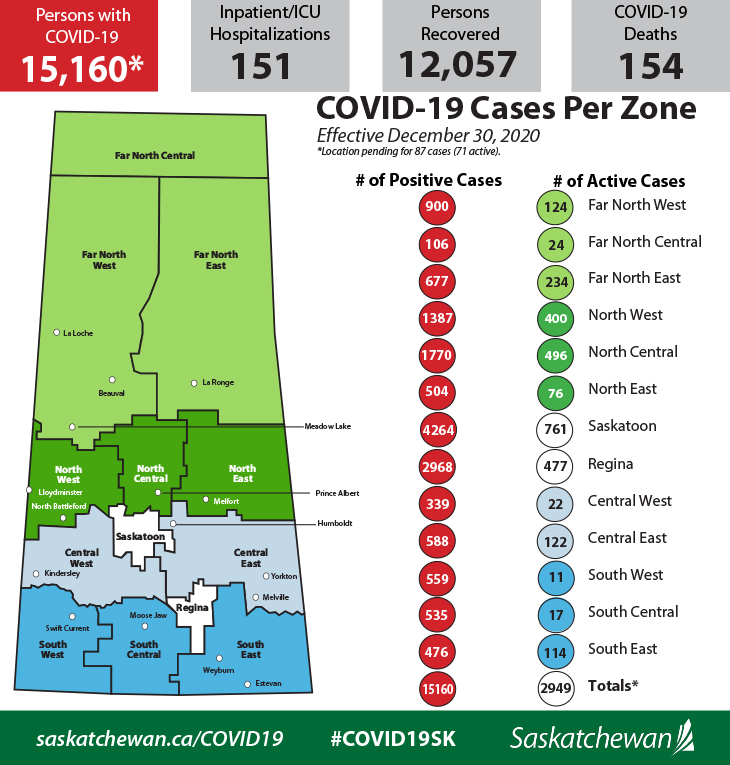 The province is also announcing 147 new cases with 378 recoveries on Wednesday bringing the active case count back below 3,000 as it sits at 2,949 with the seven-day daily average of cases now at 152. The last time the active case count was below 3,000 was on November 24
The new cases are located in the Far North West (4), Far North East (25), North West (9), North Central (10), North East (5), Saskatoon (13), Central East (7), Regina (44), South West (2), South Central (3) and South East (17) zones. Eight (8) new cases have pending residence information. Nine cases with pending residence information, previously reported, have been found to be out-of-province residents and were removed from the counts.
Seventeen previously reported cases have been assigned to the North Central (16) and Regina (1) zones.
151 people are in hospital.  Of those 151, 119 are receiving inpatient care including 28 in the Regina zone with 32 receiving intensive care including 10 in Regina.
Only 1,475 tests were processed on Tuesday.