Three more people in Saskatchewan have died as a result of COVID-19 bringing the provincial total to 332.
One death was reported in the 60-69 age group from the Northeast zone. One is in the 70-79 age group from the Far Northwest with the other coming from someone in the Northcentral zone who was aged 80 plus.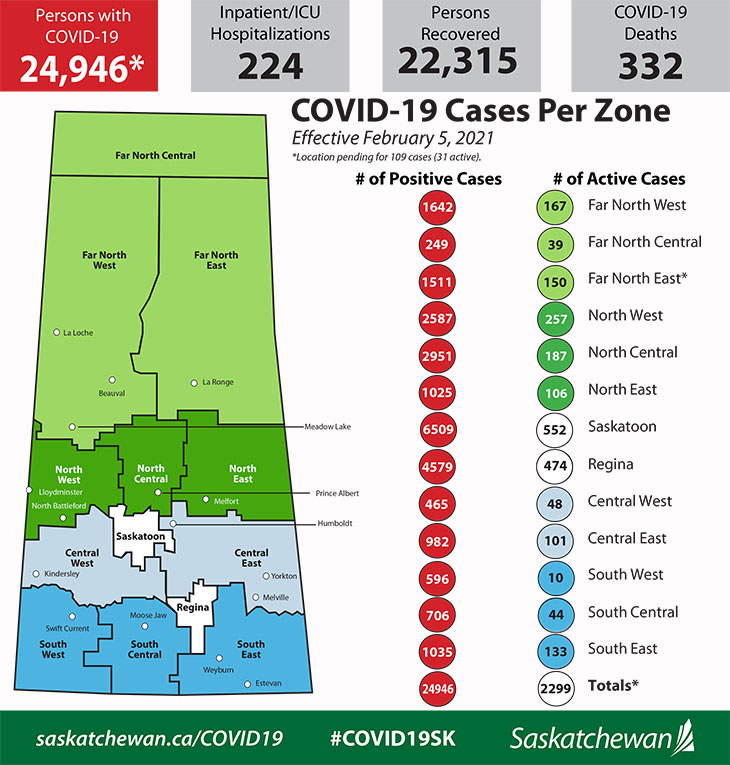 There are 269 new cases to report to go along with 229 recoveries putting the active case count at 2,299.
The new cases are located in the Far North West (19), Far North Central (5), Far North East (15), North West (30), North Central (21), North East (22), Saskatoon (66), Central West (6), Central East (10), Regina (41), South West (1), South Central (4) and South East (22) zones, and seven (7) cases with pending residence information.
224 people are in hospital with 196 receiving inpatient care.  Of those 196, 51 are in Regina.  28 people are in intensive care including 11 in Regina.
The seven-day average of daily new cases is 225 (18.4 new cases per 100,000 population).
When it comes to vaccinations, the province says there were 2,099 COVID-19 vaccine doses administered on Thursday in Saskatchewan, bringing the total number of vaccines administered in the province to 38,710. With 5,850 doses having arrived in the province this week and the overages due to efficiencies in drawing extra doses from vials of vaccine received, 100 per cent of the doses received have been administered to date. With this allotment, Phase One vaccinations will continue in Prince Albert, Saskatoon, Yorkton and North Battleford.
Saskatchewan's Moderna shipment of 6,000 doses has arrived at Roy Romanow Provincial Laboratory. Ground transportation for the doses going to the South East, North East, Central West, and Far North West will begin late Friday afternoon. Air transportation for the Far North Central and Far North East will begin on Saturday, February 6.
Saskatchewan is scheduled to receive 11,700 Pfizer doses the week of March 1 and 11,700 doses on the week of March 8.