The province has sadly hit the 500 mark when it comes to deaths related to COVID-19.
On Wednesday, the province announced two new deaths and 198 new cases. The deaths, which bring the total to 501, are people in their 70's from the Saskatoon and Regina zone.
196 new cases are being reported to go along with 250 recoveries putting the active case count at 2,250 which is the lowest since April 8.  There are 163 new variants of concern.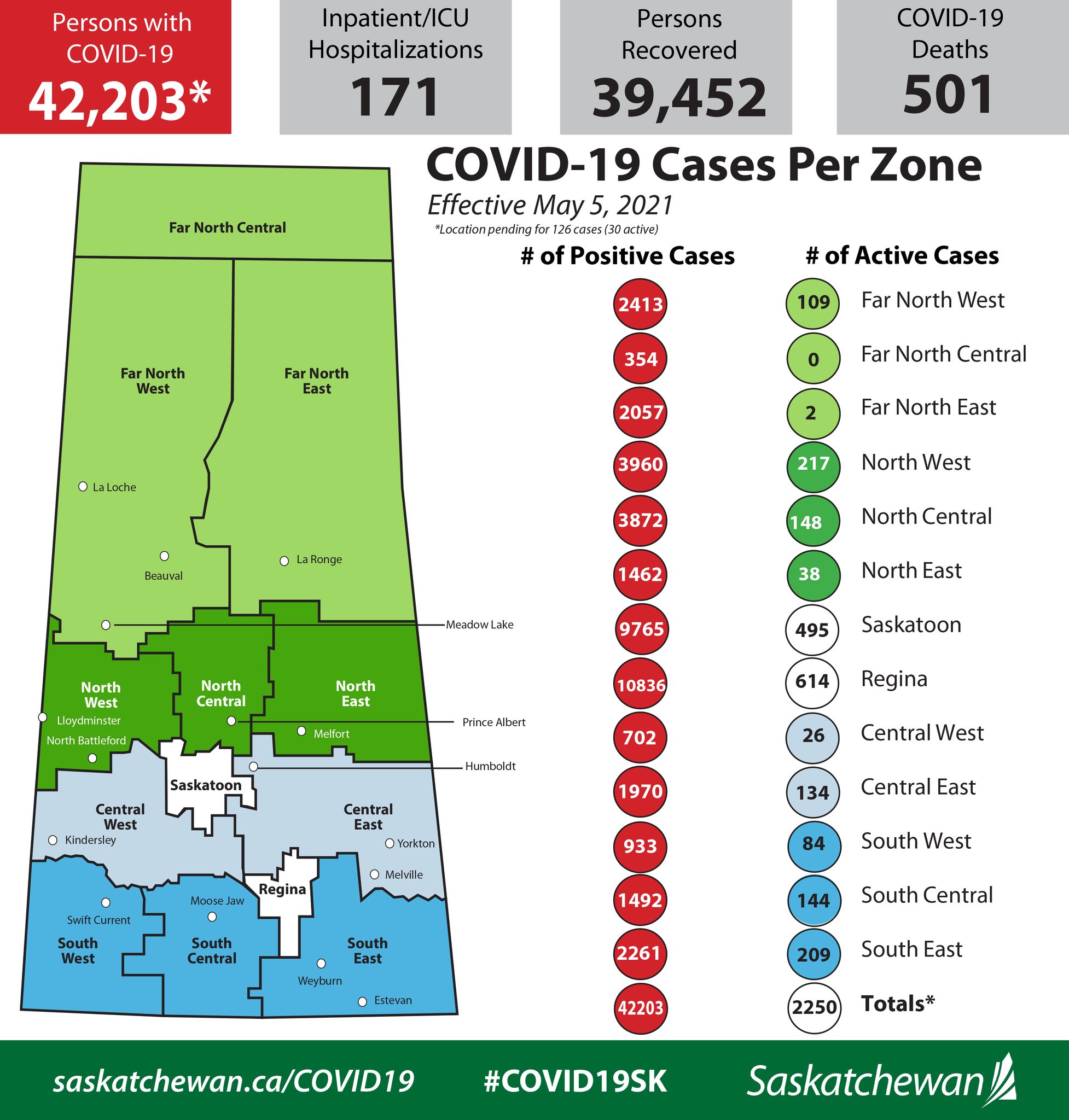 There are 171 people in hospital with 39 of those receiving intensive care including 22 in Regina.
The seven-day daily average now sits at 224.
Just under 10,000 doses of vaccine were administered in Saskatchewan on Tuesday with Saskatoon and Regina accounting for over half of that total.
The province is once again dropping the age eligibility for vaccines as those 35 and over will be eligible as of Thursday morning.  Due to supply, there are currently 11,200 Moderna doses available. Participating pharmacies will have a further 15,500 Moderna doses arrive later this week for distribution to begin early next week. As of today, the SHA has 6,000 appointments still available in their booking system. There are 8,000 doses available for Drive thru and walk in clinics beginning tomorrow through Monday.
Status of Priority Population Vaccinations, as of May 3, 2021
Group
Estimated
Population
Received
First Dose
Received
Second Dose
Age 80+
51,307
44,903 (88%)
12,623 (25%)
Age 70-79
79,817
68,249 (86%)
5,484 (7%)
Age 60-69
138,471
108,244 (78%)
5,174 (4%)
Age 50-59
147,466
93,800 (64%)
6,528 (4%)
Age 40-49
151,896
64,034 (42%)
5,613 (4%)
Age 30-39
183,246
25,776 (14%)
5,691 (3%)