The Cloverdale Fire has grown a bit, but the vice president of operations with the Saskatchewan Public Safety Agency expects the cooler weather will help in the fight to contain and exterminate the wildfire.
Steve Roberts says the fire now exceeds 3,700 hectares and has grown to the east and northeast, away from Prince Albert and into agricultural land, which has less fuel to keep the fire alive. The Berg Division of the R.M. of Garden River is under an evacuation order. Roberts estimates there are somewhere around 12 to 18 acreages in that area.
The province says as of Wednesday morning, 45 people are being supported in hotels. Anyone who has evacuated is encouraged to register by calling 306-953-4816 or they can drop by the Margo Fournier Centre in Prince Albert.
Joel Cherry with SaskPower says 1,000 homes have had power restored in the rural area between Spruce Home and Christopher Lake, but that leaves 8,000 customers still without power as far north as La Ronge. He explains that SaskPower crews weren't able to enter the area to get at the 15 damaged power lines until this morning. How long it will take to get the power back on depends on the amount of damage done.
Cherry says some of the poles are burned to the ground so they will have to be replaced, but the issue is around the conductor wire. The power line has tension, but they need to make sure it is still capable of current. If it is, and if all goes well, the power could be back on Thursday. Otherwise residents could be looking at Friday or Saturday.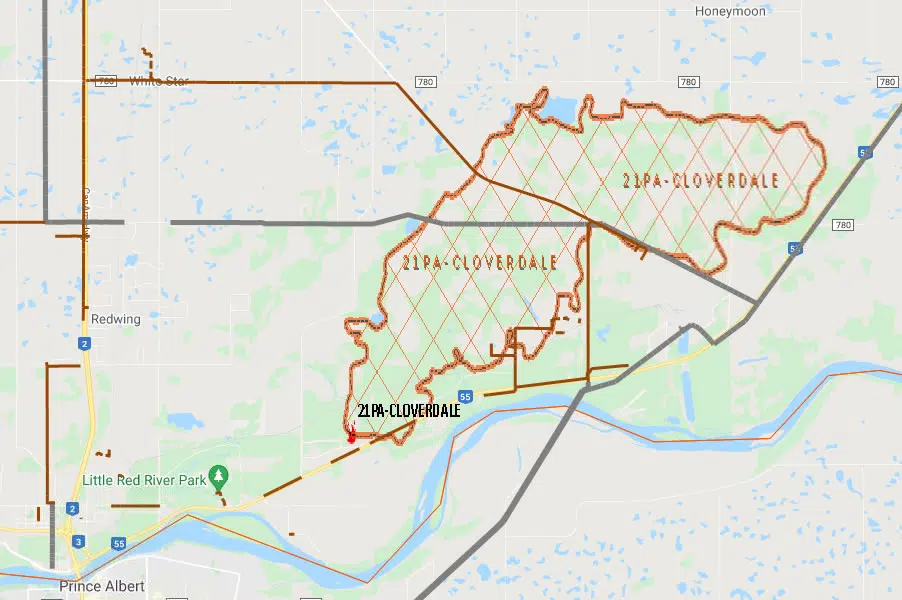 The city of Prince Albert says city fire crews and public safety partners continue to work to battle the approximately 40 square-kilometre Cloverdale Fire northeast of Prince Albert. Residents who were evacuated south of the White Star Road earlier this week are not allowed to return home at this time.
The fire is still not contained, and shifting, high winds continue to make fighting the fire a challenge. Additional residents were evacuated Tuesday afternoon and the city says it remains in regular contact with them. As of Wednesday morning, no residential structures have been reported lost due to the fire. City firefighters continue to sprinkler homes in the city limits to protect residential structures. The city has registered 75 evacuated households to date.
Members with the Prince Albert Police Service are patrolling in the area. Little Red River Park remains closed. Any questions related to power in the area can be directed to SaskPower for updates. Highway road closures remain in effect. Check the Highway Hotline for updates.
(CJWW)