No A.C Leonard, no Ed Gainey and no Loucheiz Purifoy.  The Riders defence will be challenged on Saturday when they take on the Bombers in Winnipeg in a 2 o'clock start on 620 CKRM.
Leonard has been suspended for two games for not providing a urine sample for a routine drug test after the Labour Day Classic.  That means Pete Robertson comes off the practice roster to take  his spot. Gainey is out with a foot injury while Purifoy is sidelined with a neck problem.  It means Christian Campbell will make his first CFL start as he will move to Nick Marshall's spot with Marshall moving into Gainey's halfback position.  AJ Hendy will move into the secondary from linebacker to take Purifoy's spot with Godfrey Onyeka taking over at strong-side linebacker.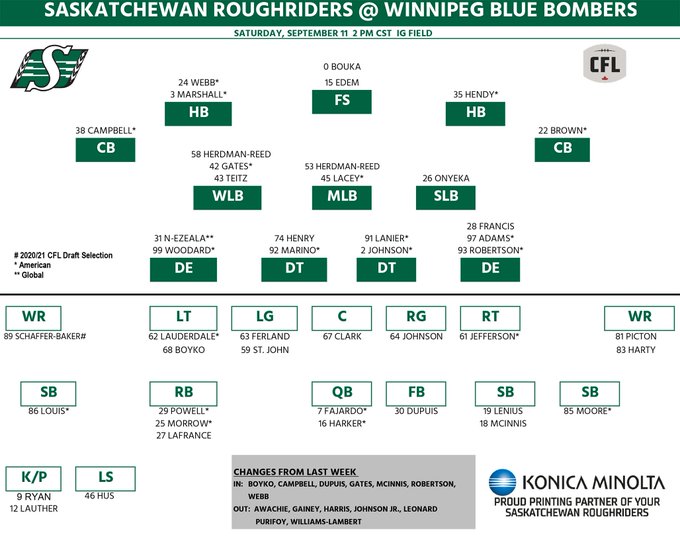 There is also a change on offence as Jordan Williams-Lambert will not play due to a non-football related situation.  Canadian Kian Schaeffer-Baker will start in his place.
Head Coach Craig Dickenson admits his team is behind the eight-ball, but says that is not stopping them from trying to seize the opportunity.
"I see it, and I hope the players see it as a chance to go over there and prove some people wrong." Dickenson said. "We'll see what we are made of.  This will be a character game for us.  I hope we play hard and I hope we play well and in the words of (former San Francisco 49ers head coach) Bill Walsh we will let the score take care of itself.