There are 71 new cases of COVID-19 in Saskatchewan.
Of those new cases 13 of them are located in the Saskatoon area, 12 in the Central East area, and 11 in the North West zone. There are 8 cases in the Regina area.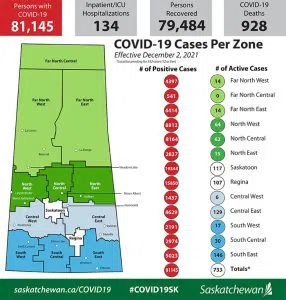 One person died due to COVID-19 increasing the death toll to 928.
134 people are in hospital due to COVID-19 including 35 in ICU.
There were 72 recoveries bringing the active case count down to 733.
On the vaccine front, 5,006 vaccines were administered including 1,134 individuals now fully vaccinated.