The City of Regina is ready to "decommission" the old Winnipeg Street overpass over Ring Road, now that the new, improved version is ready.
Its will take some heavy equipment a couple of days to tear down the old overpass.  Traffic restrictions will go into effect on Friday morning, until Monday morning while the work is being done. (See main story photo)
Tomorrow (Thursday) there will be some detours and lane closures at the eastbound off ramp to Winnipeg from Ring Road for re-paving. Traffic will be detoured onto MacDonald Street.
The new overpass will be opened to the public Monday morning, and most of the restrictions will be removed.  East bound traffic on Ring Road won't be able to to turn north bound Winnipeg Street for six weeks, as a new exit ramp loop will be built. (See picture below)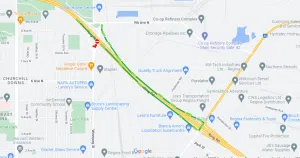 The city is also thanking residents for their patience, as this large project is closing in on completion.